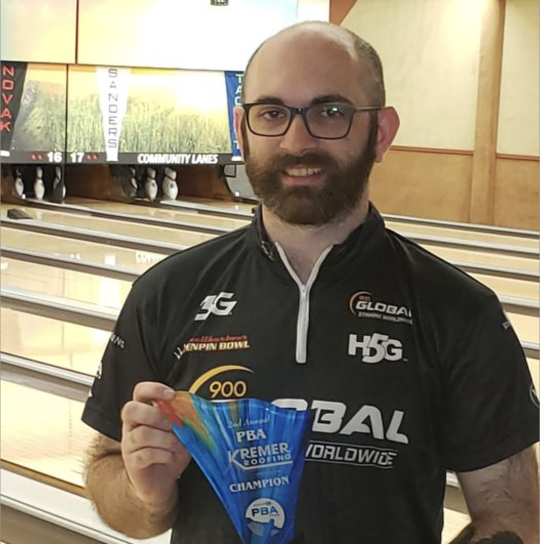 Once again, the cream rose to the top over the past two weeks. Graham Fach found his fifth title this year to take a monstrous lead in the Central Region. Sam Cooley earned two titles and runner-up in another. You can read more on how it all broke down right here.
PBA KREMER ROOFING CENTRAL CLASSIC
With back-to-back events in Ohio, a handful of touring pros tested their luck at the pair of Central Region tournaments in mid-August. Shawn Maldonado led the field after qualifying, but Fach overtook the lead following Advancer Round 1.
Cooley jumped them and eight other bowlers to claim the No. 1 seed after posting a blistering 989 block during Advancer Round 2. Zac Tackett moved past Patrick Dombrowski in the first match 235-210, squeaked by Shawn Maldonado 235-232, but then fell to Graham Fach, 224-203.
Title No. 5 of the season for Fach would have to wait, as Cooley picked up his first title this season, winning 222-202.
PBA Kremer Roofing Central Classic Final Standings
Sam Cooley, 5,000 points, $4,000
Graham Fach, 3,000, $2,200
Zac Tackett, 2,300, $1,500
Shawn Maldonado, 1,900, $1,200
Patrick Dombrowski, 1,700, $1,000
Full standings are available here.
PBA BOWLERSTORE.COM CLASSIC PRESENTED BY MOXY'S XTRA PAIR
Ninety-four bowlers came to Pla-Mor Lanes in Minster, Ohio to compete for an increased prize pool. The super regional field split in half after each of three advancer rounds, as four bowlers aimed for a spot in the stepladder finals.
After nabbing three strikes in the tenth, Justin Knowles moved into a roll-off against Brent Boho, where he would snag the No. 4 seed.
In what turned out to be a tight battle, Knowles fell to EJ Tackett, 213-211. Tackett then lost to Sam Cooley in the second match, 255-223, earning Cooley a rematch with Fach.
Fach continued his torrid season and avenged his first loss by taking down Cooley 234-219 for his fifth regional title this season.
You can read more on the Coldwater super regional here.
PBA Bowlerstore.com Classic presented by Moxy's Xtra Pair Final Standings
Graham Fach, 5,000 points, $10,000
Sam Cooley, 3,000, $5,000
EJ Tackett, 2,300, $2,500
Justin Knowles, 1,900, $2,200
Full standings are available here.
PBA CHANNEL LUMBER OPEN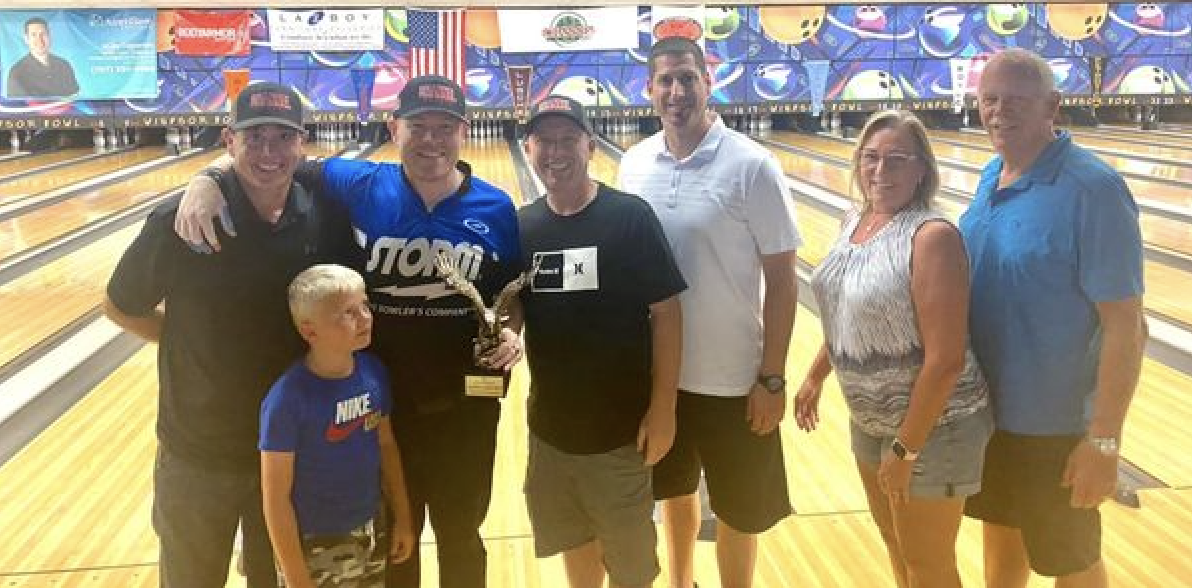 Chad Lusche was the only one of 44 players to average over 230 (and 220) in Windsor, Calif. He and three others earned a bye in a 12-man bracket, but Lusche dropped his first match to Scott Boyle 2-0. Boyle later fell in his semifinal matchup to Tyler Cortez Schenck, while PJ Haggerty took down Treico Holland to grab the other spot in the finals.
The final game came down to the 10th frame, when Schenck needed the first hit in the tenth. Instead, he sent one wide and split. Haggerty earned his fourth title this year, winning 214-194.
PBA Channel Lumber Open Final Standings
PJ Haggerty, 2,500 points, $2,600
Tyler Cortez Schenck, 1,500, $1,700
Scott Boyle- 1,150, $1,100
Treico Holland- $1,100
Full standings are available here.
You can view the West Region points leaders here.
PBA CENTURY LANES/CLEAN AIR SOLUTIONS/GILBERT'S SERVICE CO & CRAWLSPACE SOLUTIONS OPEN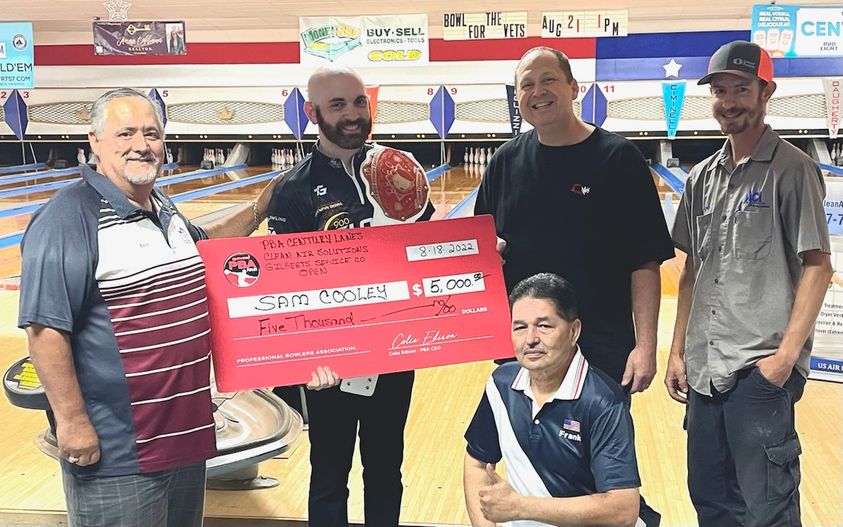 Right before a super regional in the South Region, 74 bowlers hit the lanes to attack the Scorpion pattern in a midweek battle. Thanks to a 300 in Game 5, Arturo Quintero led the way after qualifying but still had work to do as the field split in half for three advancers rounds.
After said rounds, Quintero qualified for the four-person stepladder but dropped to the No. 4 seed. Sam Cooley grabbed the No. 3 seed, Tom Daugherty took the second, and Jason Sterner clinched the top position.
Cooley knocked off Quintero 187-175, Daughtery 245-237, and finished with a win over Sterner, 228-222, to run the table and earn his second title in less than a week and fifth title overall.
PBA Century Lanes/Clean Air Solutions/Gilbert's Service Co & Crawlspace Solutions Open Final Standings
Sam Cooley, 2,500 points, $5,000
Jason Sterner, 1,500, $3,000
Tom Daughtery, 1,150, $1,140
Arturo Quintero, 950, $915
Full standings are available here.
PBA BOOSTER CLUB OF HAMPTON ROADS OPEN
Two days and 20 miles later, the Viper pattern treated competitors much nicer than Scorpion. Matt Taylor led after qualifying, but was eliminated after the second advancer round, narrowly missing out on the stepladder.
In the end, Tim Foy Jr. picked up his third career PBA regional title. For more on this tournament, you can read here.
PBA Booster Club of Hampton Roads Open Final Standings
Tim Foy Jr., 5,000 points, $10,000
Eric Jones, 3,000, $5,565
Anthony Neuer, 2,300, $4,000
Tom Daugherty, 1,900, $3,000
Full standings are available here.
You can view the South Region points leaders here.
PBA BOWLERO/GROVE CITY CENTRAL OPEN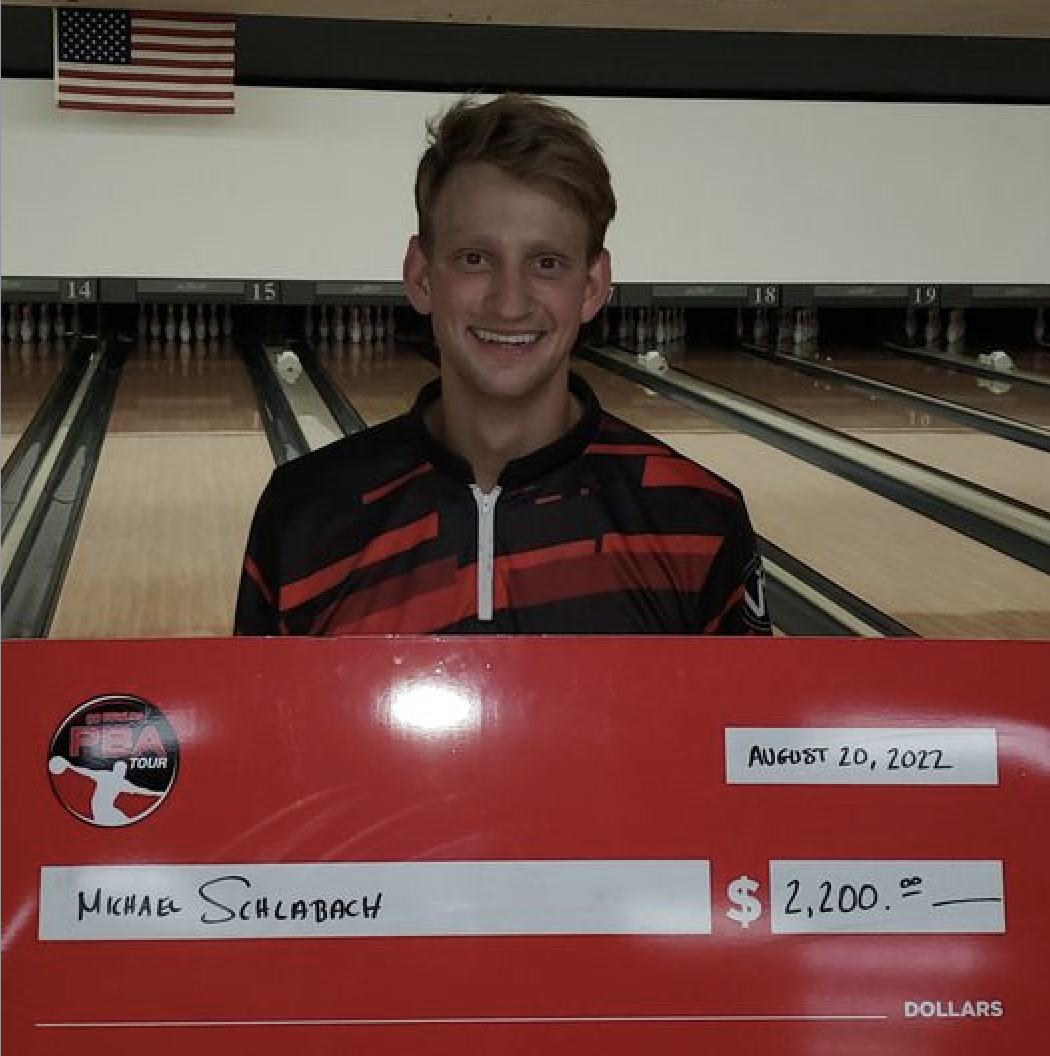 Almost 60 bowlers appeared at the third Central Region event in the past half-month, and 12 emerged after qualifying. It took a 213.38 average on the Billy Hardwick pattern to move into single-elimination bracket play and a 223 pace to earn a bye.
Top-seeded Brandon Kennard won his first two matches to earn a battle with Graham Fach in the semifinals, and it was a battle of the "Bach's" with Ryan Liederbach and Michael Schlabach in the other semifinal matchup. Kennard ousted Fach while Schlabach moved on as well.
Schlabach earned his second PBA regional title after knocking off Kennard 235-212.
PBA Bowlero/Grove City Central Open Final Standings
Michael Schlabach, 2,500 Points, $2,200
Brandon Kennard, 1,500, $1,450
Ryan Liederbach, 1,150, $1,050
Graham Fach, 950, $1,050
Full standings are available here.
You can view the Central Region points leaders here.
PBA DAVE HUSTED OPEN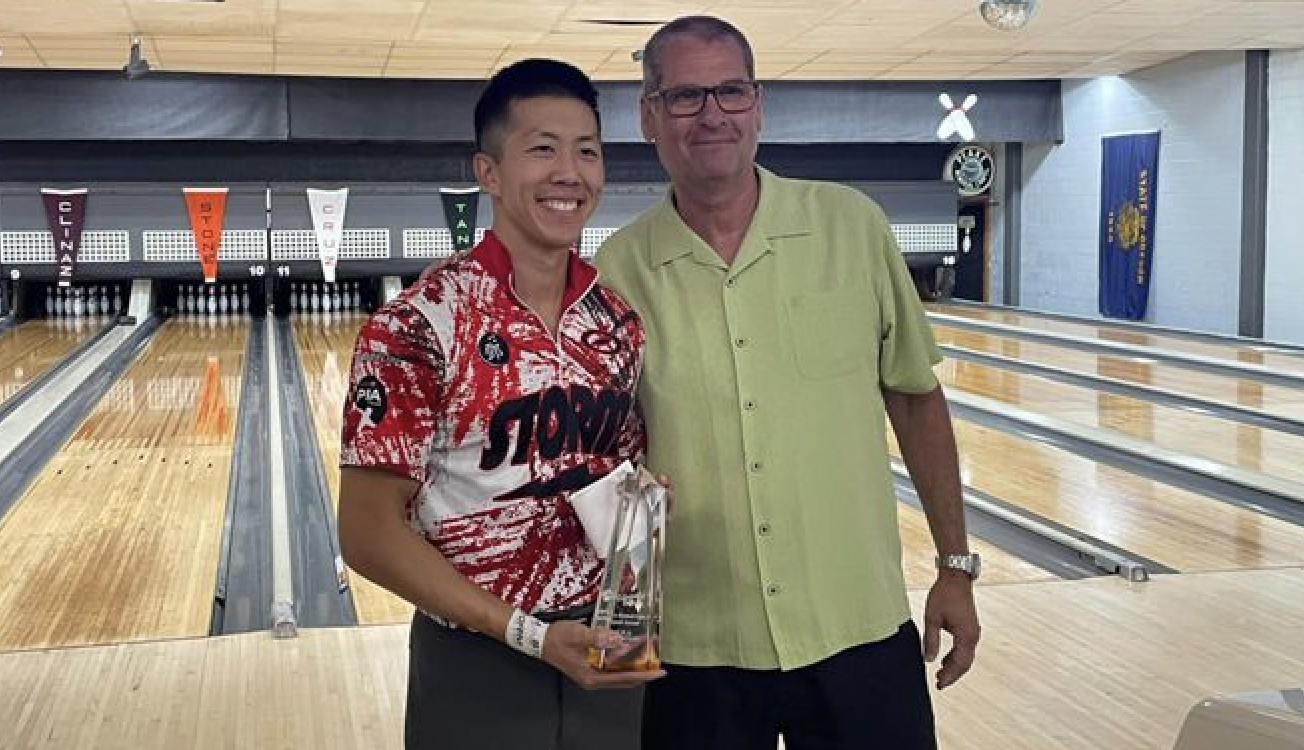 In the Northwest, an exclusive members-only event transpired at Milwaukie Bowl in Oregon. Senior Michael Kennedy led the way at +270 for eight games, earning the No. 1 seed and a bye.
Kennedy utilized the bye well, winning his first match 3-0 to advance to the semifinals. Unfortunately for Kennedy, he ran into a buzzsaw in Darren Tang, who was on a mission to end his streak of runner-up finishes.
After qualifying fourth, Tang waltzed through match play without dropping a single game. Tang, who has three runner-up finishes since his last title in early May, finally got back on the board by defeating Payden Stumpf 237-220.
PBA Dave Husted Open Final Standings
Darren Tang, 5,000 points, $3,000
Payden Stumpf, 3,000, $1,800
Michael Kennedy, 2,300, $1,200
Giorgio Clinaz, Jr., 1,900, $1,200
Full standings are available here.
You can view the Northwest Region points leaders here.
PBA HOUSTON EMERALD SOUTHWEST CHALLENGE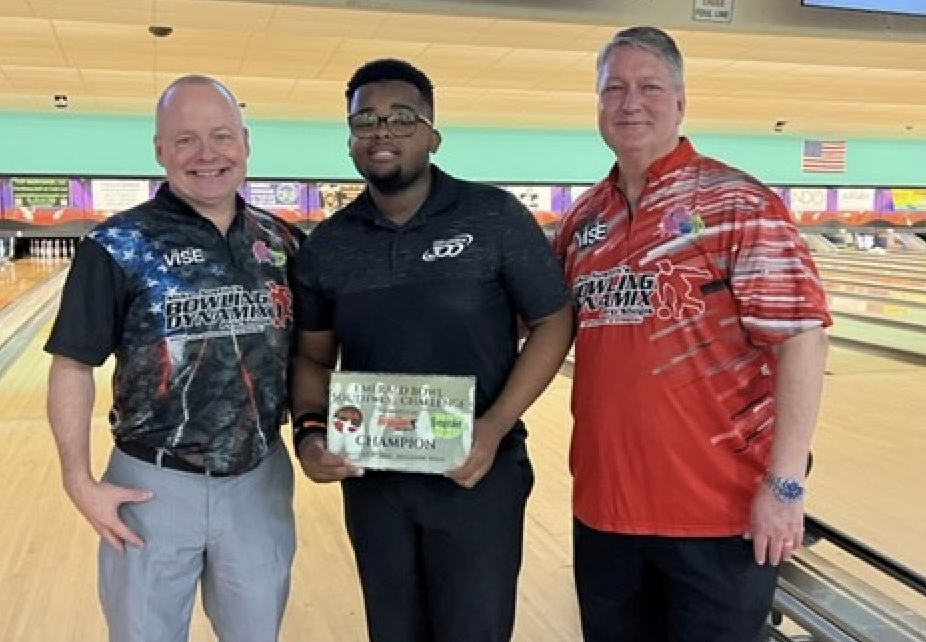 Now to an exclusive non-champions event, 81 bowlers tested their wits against the Scorpion pattern, and the arachnid did not go down without a fight. Just 11 players went plus for eight games. After five more games, eight bowlers remained plus, and just six bowlers after four more games.
From there, the remaining bowlers smushed the Scorpion pattern as T.J. Rock, Joshua Sorola, Brent Boho and Garrett Andrus remained well above the even line. Rock and Sorola eventually moved on to the final round, and Rock had a plenty-enough lead to cruise into his first career regional title.
PBA Houston Emerald Southwest Challenge Final Standings
T.J. Rock, $2,500
Joshua Sorola, $1,700
Garrett Andrus, $1,300
Brent Boho, $1,300
Full standings are available here.
You can view the Southwest Region points leaders here.
Although the events have racked up over the past couple of months, there are still over 50 events remaining, including a handful of Regional Players Invitational Qualifiers. The rest of the 2022 schedule is available here.
FOR PRESS INQUIRIES