AUGUST 11, 2022 CHASE KAUFMAN
With Walter Ray Williams Jr.'s latest regional title on Aug. 5, he now owns 60 career regional titles and extends his record for the most all-time. The win also marked his 25th PBA50 regional title, which broke the tie with Ron Mohr for the lead. It also makes for his 123rd overall title between his PBA and PBA50 careers.
We had 10 events last time and nine events this go-round, so it's safe to say that the regional tour is at the heart of its schedule, giving players the chance (albeit a small one) to catch up to Mr. Williams Jr. someday.
Some bowlers are starting to take big leads in their respective regions, but the top eight players in each region will advance to the Regional Players Invitational in January 2023. Let's check who's working on a trip to Las Vegas.
PBA ROCKAWAY LANES OPEN
You can hitch a ride to Rockaway Lanes along with 94 other bowlers who decided to compete in the Rockaway Lanes Open in Rockaway, New Jersey. Frequent regional athlete Jason Cornog led qualifying on the 44' Billy Hardwick pattern at +381 for eight games and used the No. 1 seed to his advantage. Cornog earned a double-bye along with three others, but he was the only one to win his first match.
In the semifinals, Cornog took down Owen Darby 212-182, while recent regional winner Todd Sigeti defeated Rick Graham in the other semifinal 235-191. In the finals, Cornog won 257-204, becoming one of the few top-seeds this season to move through the bracket for a title.
PBA Rockaway Lanes Open Final Standings
Jason Cornog, 2,500 points, $2,600
Todd Sigeti, 1,500, $1,375
Rick Graham, 1,150, $1,100
Owen Darby, 950, $1,100
Click here for more tournament information and complete standings.
PBA50 RUTH FROBERG MEMORIAL/BRUNSWICK CENTRAL/MIDWEST OPEN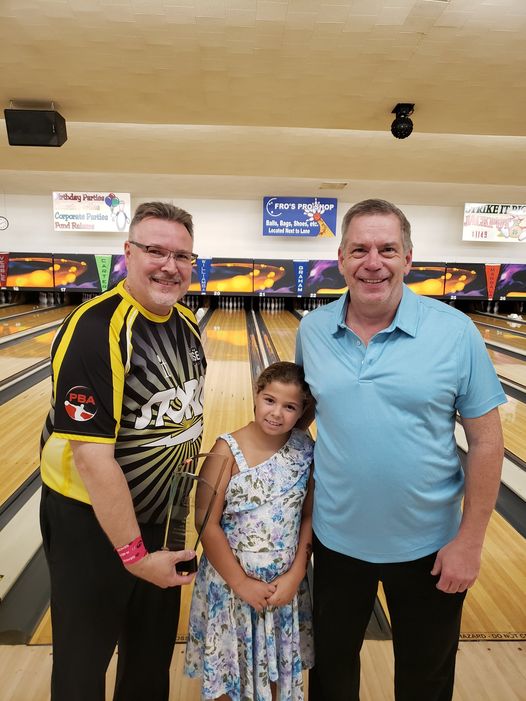 Eugene McCune, Aubrey Froberg and Bill Froberg
With a PBA50 National Tour stop soon taking place just over an hour from St. Joseph, Mich., it was no shock to see some of the big names at Striker's Bowl that you wouldn't typically see for a regional event. Eighteen bowlers qualified to the first advancers round on the Mark Roth pattern, and five more games left the stepladder with five incredibly accomplished bowlers: Eugene McCune, Bill Watson, Dan Knowlton, Parker Bohn III, and Williams Jr.
In the first match, in which the two bowlers owned a combined 95 regional titles, Williams Jr. defeated Bohn III 244-207. Up next was Dan Knowlton, who seemingly makes every cut on the PBA50 National tour. Williams held on there to win 222-182.
Again, "Deadeye" won the next match — this one much closer over Bill Watson, 255-246. However, his run ended there as Eugene McCune clinched his 29th regional title, winning in the final match 227-216.
Click here for more tournament information and complete standings.
PBA50 Ruth Froberg Memorial/Brunswick Central/Midwest Open Final Standings
Eugene McCune, 2,500 points, $3,000
Walter Ray Williams Jr. 1,500, $1,600
Bill Watson, 1,150, $1,250
Dan Knowlton, 950, $1,000
Parker Bohn III, 850, $900
You can view the Central Region point leaders here.
PBA50 BOWLERO CHARLOTTE OPEN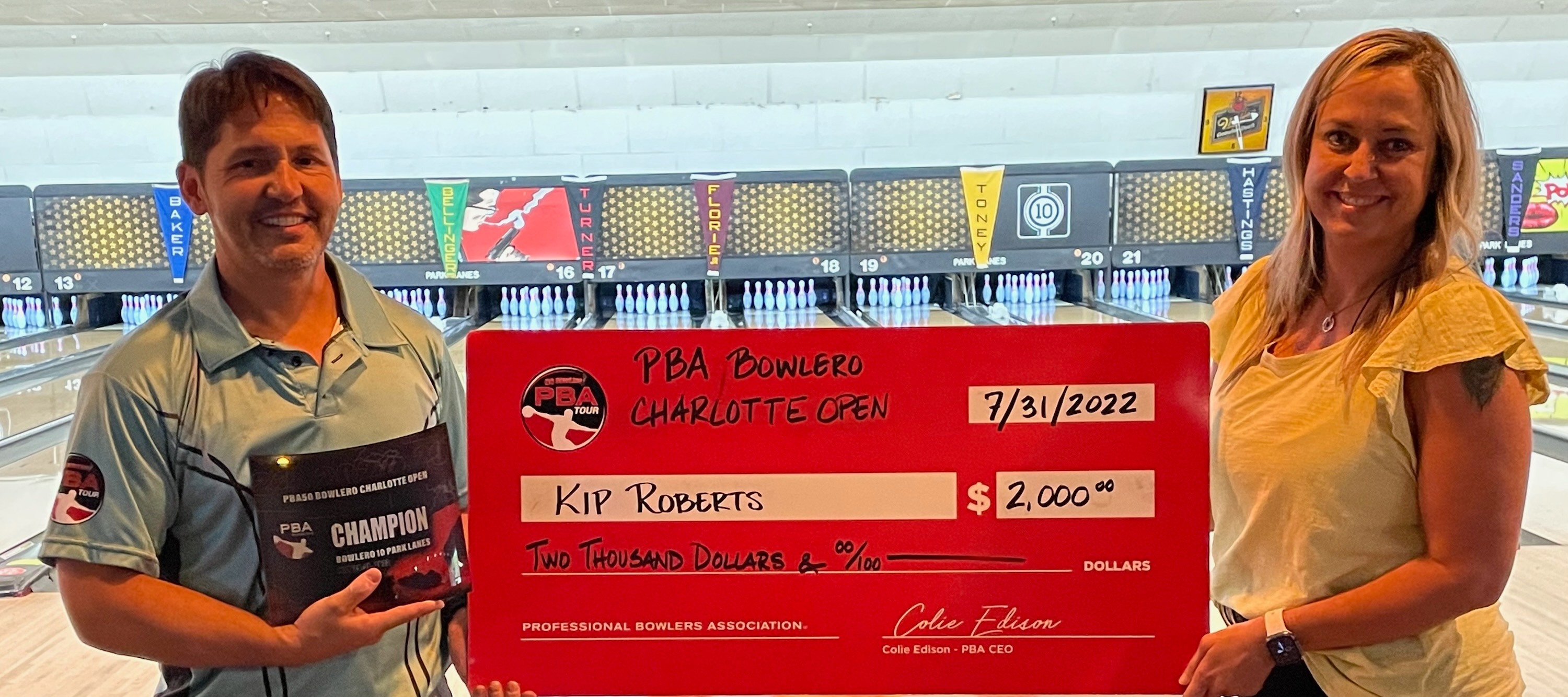 Kip Roberts and Shawna Myler
Even with a PBA50 event grabbing many of the top bowlers in St. Joseph the same weekend, the Bowlero Charlotte Open snagged 80 bowlers for a fun late-July weekend. This one was a bracket-play format giving a double-bye to the top four bowlers and a single-bye for the next four.
Three of the four double-bye recipients won their first match to advance to the semifinals, along with Peter Dohan Jr., who knocked off the No. 1 seed Darryl Bower. Dohan Jr. crushed Chris Collins 234-131 in the first semifinal, while Kip Roberts took down Michael Painter in the bottom half of the bracket, 212-188.
The final match was close until Roberts put together a turkey in the 7th-9th frame. Roberts earned his 2nd title this year and 18th of his career after winning 225-208.
Click here for more tournament information and complete standings.
PBA50 Bowlero Charlotte Open Final Standings
Kip Roberts, 2,500 points, $2,000
Peter Dohan Jr., 1,500, $1,100
Michael Painter, 1,150, $925
Chris Collins, 950, $925
PBA50 BEVERLY LANES MIDWEST/CENTRAL OPEN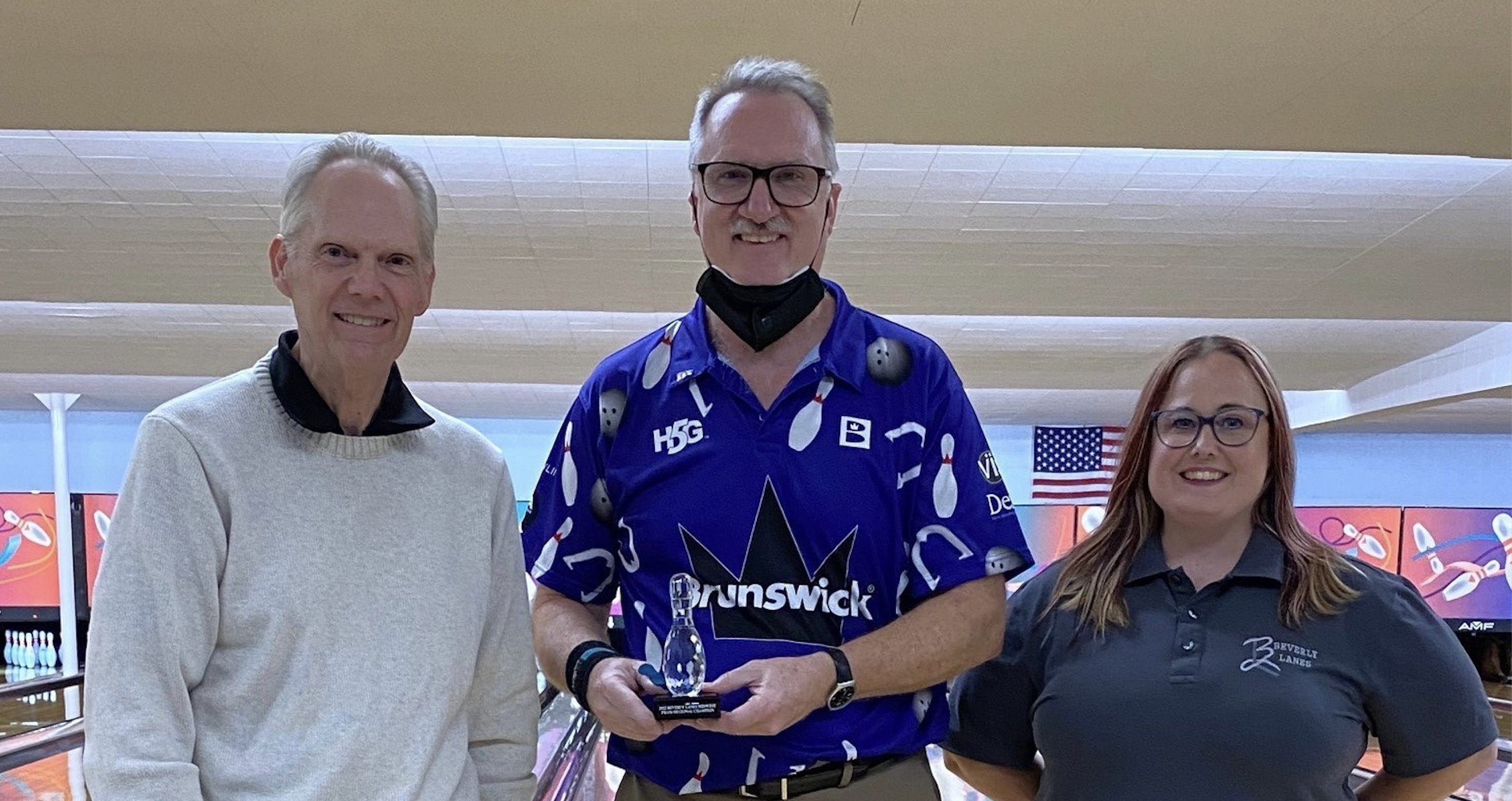 Lyle Zikes, Walter Ray Williams Jr. and Roxanne Marie
In Arlington Heights, 45 PBA members sprung into action at the one-day event right outside of Chicago. Jeff Johnson led the field, grabbing the top of twelve seeds for bracket play. Unfortunately for Johnson, he ran into Vince Biondo III, who delivered a 298 and a 247 in match play.
Biondo III went on to face Williams Jr. in the semifinals and won the first game, but dropped the next two as Williams Jr moved on. His opponent was Rick Woloszyn, who had just defeated Rolando Sebelen 2-0.
Unsurprisingly, Williams Jr. was on his A-game, as he also was ten years ago when winning here, topping Woloszyn 237-224 and 268-211 for regional title No. 60.
Click here for more tournament information and complete standings.
PBA50 Beverly Lanes Midwest/Central Open Final Standings
Walter Ray Williams Jr. 2,500 points
Rick Woloszyn,1,500
Rolando Sebelen, 1,150
Vince Biondo III, 950
You can view the Midwest Region point leaders here.
PBA CAPSTONE HEALTH ALLIANCE ASHEVILLE OPEN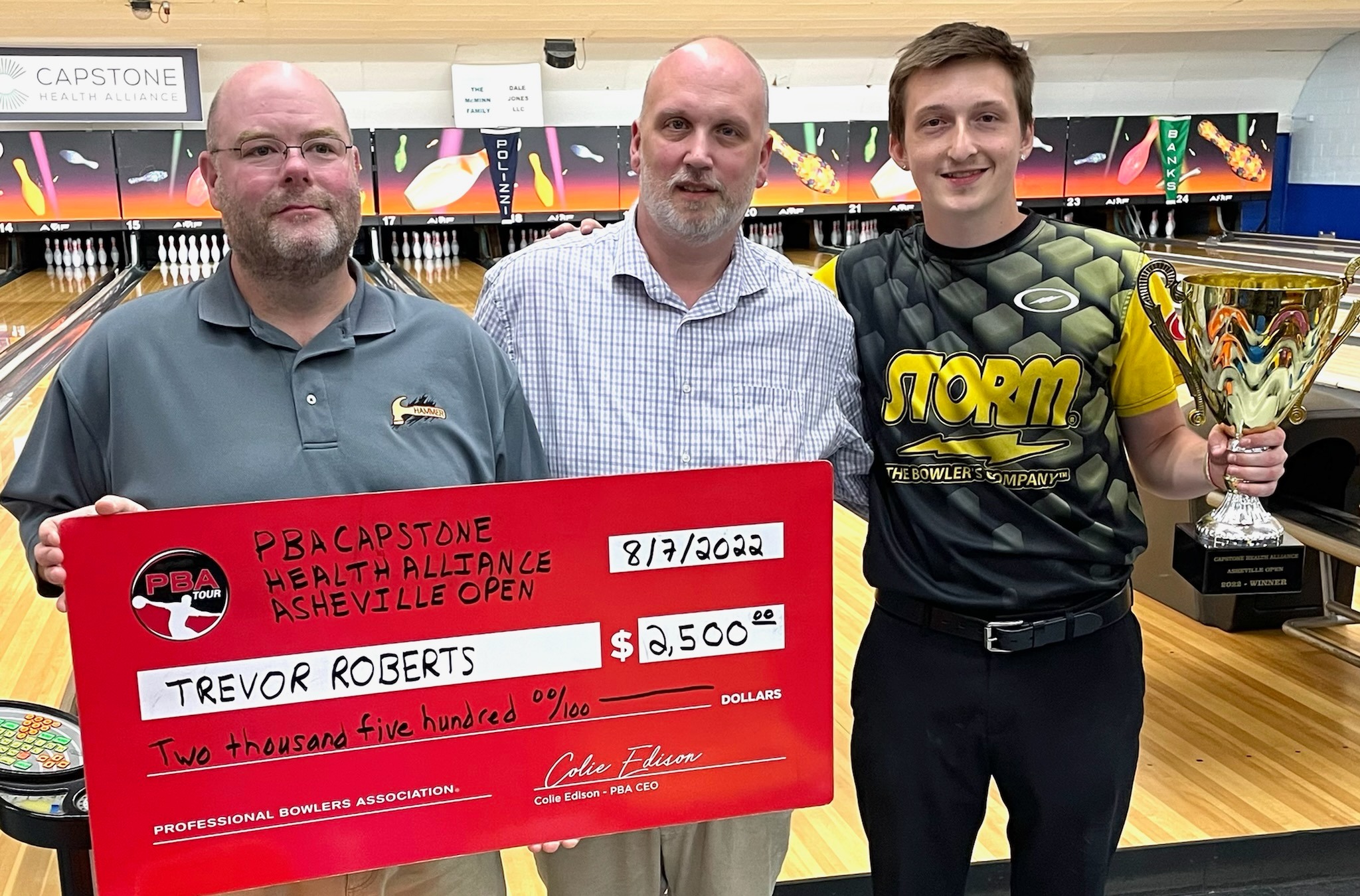 Chris Banks, Adam Sprinkle and Trevor Roberts
Stepping away from the bracket format, bowlers stepped into Skylanes for a regional in North Carolina for the second straight weekend. One-third of the field moved on after the qualifying round, followed by cutting to the top 16, and eventually one final game for the top two bowlers.
Trevor Roberts, Matt Taylor, Ryan Lane, and Josh Lewis remained as the final four, but Roberts and Taylor had over 100 pins extra in their favor and used that lead to move into the finals. All pins now dropped as both finalists fought for the 4th title of their respective careers and second this season. The pair both earned their first title in Virginia this season, but thanks to Robert's eight-bagger in the final round, he took home the win in North Carolina, 269-234.
Click here for more tournament information and complete standings.
PBA Capstone Health Alliance Asheville Open Final Standings
Trevor Roberts, 2,500 Points, $2,500
Matt Taylor, 1,500, $1,220
Ryan Lane, 1,150, $950
Josh Lewis, 950, $950
You can view the South Region point leaders here.
PBA BOWLERS SUPPLY/STORM OPEN
The entry list hit the triple-digits at Colony Park Lanes North in PA, making for a large advancers round of 35 bowlers. After four more games, the cut was +151. All pins got tossed as the top 16 moved into bracket play.
Mike Ruben, Tom Sorce, Anthony Neuer, and Ryan Galli advanced to the semifinals, ready for one-game matches. Sorce defeated Ruben 235-195, while Galli took down Neuer 222-181.
Galli continued his run, taking the final, 258-223. The win marks the second career title for Galli, who had won his first title back in May at a non-champions event at none other than Colony Park Lanes North.
Click here for more tournament information and complete standings.
PBA Bowlers Supply/Storm Open Final Standings
Ryan Galli, 2,500 Points, $3,000
Tom Sorce, 1,500, $1,600
Mike Ruben, 1,150, $1,150
Anthony Neuer, 950, $1,150
You can view the East Region point leaders here.
PBA STRIKERZ OPEN AT ANGEL OF THE WINDS CASINO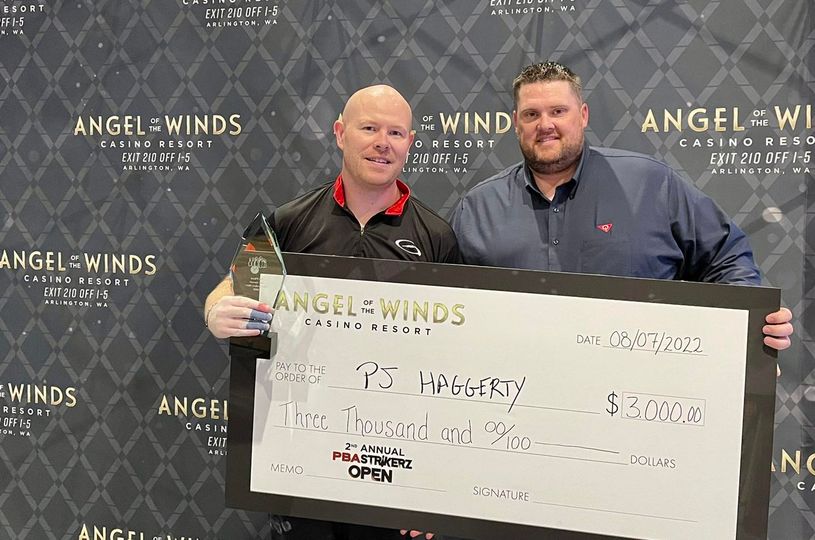 PJ Haggerty and Dustin Russell
Over to the West Coast, 54 bowlers came to play in Arlington, Washington on the Viper oil pattern. Darren Tang led the field at +327, 100 pins higher than Washington native Marshall Kent in second place.
The top 16 headed into match play, and while already holding a sizable lead, Tang smoked the competition by going 8-0 to accumulate a massive 360-pin margin over second place. But unfortunately, Tang still had to get through a stepladder final.
The No. 4 seed PJ Haggerty defeated Trevor Perov 278-211 in the first match, then took down Kent 278-233. Tang couldn't move past the hot hand of Haggerty, losing 233-211. That gives Haggerty three titles on the year, while Tang now holds three second-place finishes this season in addition to his two regional wins.
Click here for more tournament information and complete standings.
PBA Strikerz Open at Angel of the Winds Casino Final Standings
PJ Haggerty, 2,500 points, $3,000
Darren Tang, 1,500, $1,850
Marshall Kent, 1,150, $1,500
Trevor Perov, $1,200
You can view the Northwest Region point leaders here.
PBA FARMERS STATE BANK CENTRAL/MIDWEST OPEN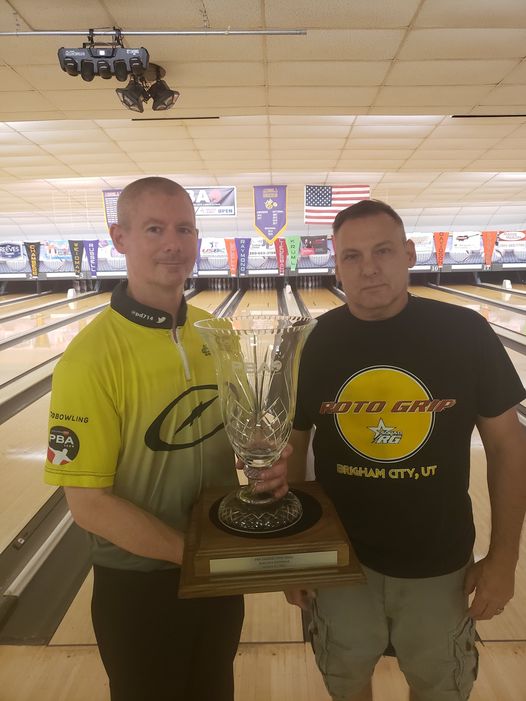 Patrick Dombrowski and Bill Burke
Angola Bowl in Angola, Ind., hosted our Central and Midwest event for the weekend, attracting 60 bowlers, all of who looked to at least jump into the top 20 for the advancers round. Justin O'Shaughnessy squeaked into the first cut at -41, and then Zeke Bayt grabbed the 8th and final spot of match play at +21.
However, Patrick Dombrowski cruised through both rounds, finishing at +275 after 13 games. His lead shrunk a tad after match play, but was still plenty big enough for him to comfortably bowl the position round game and clinch his 11th career regional title.
Click here for more tournament information and complete standings.
PBA Farmers State Bank Central/Midwest Open Final Standings
Patrick Dombrowski, 2,500 points, $2,700
Nick Kruml, 1,500, $1,400
Graham Fach, 1,150, $1,200
Zach Weidman, 950, $1,000
Chandler Stevens, 850, $950
You can view the Midwest Region point leaders here and the Central point leaders here.
PBA JONESBORO SUPER SOUTHWEST OPEN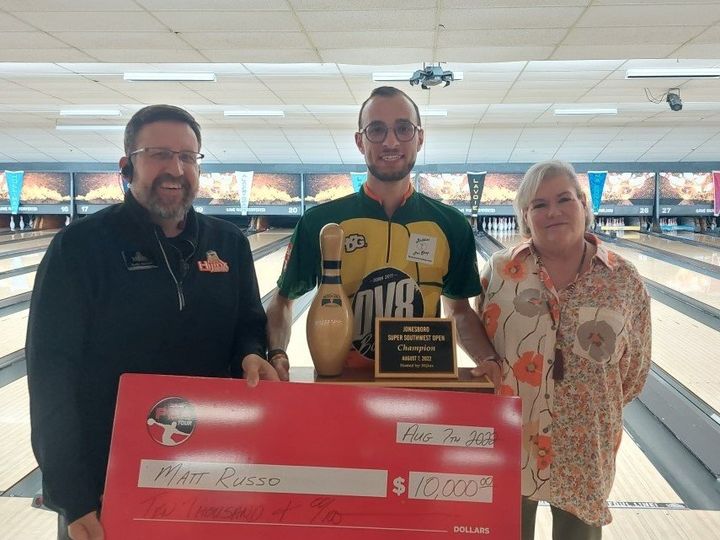 Kelly Stevens, Matt Russo and Corrine Bell
With an expanded prize pool, 91 bowlers entered the super regional in Jonesboro, Ark., which included plenty of talent. Matt Russo led qualifying and never looked back.
He cruised through each advancer round to clinch the No. 1 in the stepladder and defeated EJ Tackett in the final match. Read more about Russo's dominant win here.
Click here for more tournament information and complete standings.
PBA Jonesboro Super Southwest Open Final Standings
Matt Russo, 5,000 points, $10,000
EJ Tackett, 3,000, $6,000
Spencer Robarge, $4,000
Mykel Holliman, 1,900, $3,000
Shawn Maldonado, 1,700, $2,500
You can view the Southwest Region point leaders here.
Are you still wanting more regional action? Good news! Another nine regional events will hit the books over the next two weeks. There's still time for players to catch up in their regional standings to earn end-of-year awards.
Check out all the results from this season right here.
For all future events, click here.
FOR PRESS INQUIRES