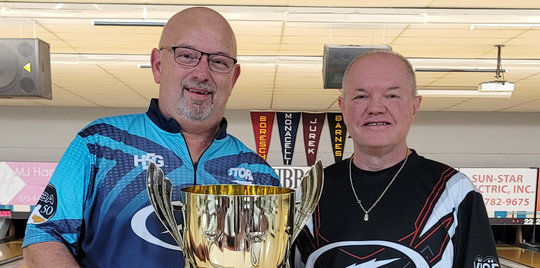 JUNE 22, 2022 
Lubbock, Texas – Lennie Boresch Jr. had himself a day on Wednesday at the 2022 PBA Senior U.S. Open. He went 12-4 during two match play rounds, including winning his final six matches.
He started the day in 10th place and climbed into seventh after the second round of match play. He then defeated Jack Jurek in the position round 257-213 to earn the top spot in the stepladder finals. He credits his success to changing to a Roto Grip RST X-1 before the last game of match play round two and it worked out well. It's a ball he has had a lot of success with, plus it allowed him to play direct lines, which he admits he is pretty good at doing.
"I overtook him (Jurek) to get that top seed and that was huge," Boresch Jr. said. "I figured he would be there at the end, and he was."
As Boresch expected he would once again face Jurek but this time in the championship match inside South Plains Lanes for the chance to win a major title.
Jurek, who finished fourth at last's weeks USBC Senior Masters, started out nine-spare strike to Boresch's double. In the third frame, Jurek went through the nose leaving the 3-4-6-7-10 split getting just the 6-10 for an open frame. Boresch stayed clean until the fifth frame when he left a pocket 7-10 split.
"When I left it (7-10), I said I am not going to let it get me down," the Wisconsin native admits.
He responded with three-in-a-row. Jurek was clean until the ninth frame when he tugged his shot leaving the 4-7-10, which he failed to convert posting a score of 168 in the foundation frame. Boresch stepped up on the right lane and struck then struck again on his first ball in the 10th which resulted in a fist pump. He got the win 233-197.
"It was nerve racking as hell and pretty emotional because I didn't know if it would ever happen again, let alone a major," he said, especially after at least half a dozen runner-up finishes. "I made some pretty good shots down the stretch. I was fortunate enough to carry them out of there to become the Senior U.S. Open champion."
His last title was at the 2018 PBA50 National Championship in The Villages, also a major. He now has five PBA50 titles with two being majors. And he earned the $12,500 first-place prize.
"Now I am Hall of Fame eligible," the 60-year-old said. "It's a goal that was in the back of my mind."
Boresch was originally planning to cut back on bowling tournament this season, but he will continue to ride his current hot hand that has carried over between the USBC, the Masters and the Super Senior Classics he bowled in Las Vegas.
"One of my better days ever," he said. "It's an unbelievable feeling. I'm beat up right now, but as long as I am bowling good, I'm going to keep going."
In the opening match, Amleto Monacelli defeated 2022 USBC Senior Masters champion Dino Castillo. They combined for five open frames, and it was a six-bagger by Monacelli that helped him earn the 211-204 win. Monacelli was able to stay clean in match two against Chris Barnes. Barnes struggled to carry the 10-pin leaving the corner pin six-times. Monacelli threw the last four strikes for the 239-202 win.
Monacelli then took on Jurek. Jurek opened in the first frame followed by nine strikes over his final 11 frames. Monacelli was in the match until he left a 2-10 split in the ninth frame for an open frame. Jurek went on to win 236-212.
Get final standings for the 2022 PBA Senior U.S. Open at PBA Senior U.S. Open | PBA
2022 PBA SENIOR U.S. OPEN FINAL STANDINGS:
1. Lennie Boresch Jr. $12,500
2. Jack Jurek $6,500
3. Amleto Monacelli $4,000
4. Chris Barnes $3,000
5. Dino Castillo $2,500
MATCH SCORES
Match 1 – Monacelli def. Castillo 211-204
Match 2 – Monacelli def. Barnes 239-202
Match 3 – Jurek def. Monacelli 236-212
Championship match – Boresch Jr. def. Jurek 233-197
FOR PRESS INQUIRES