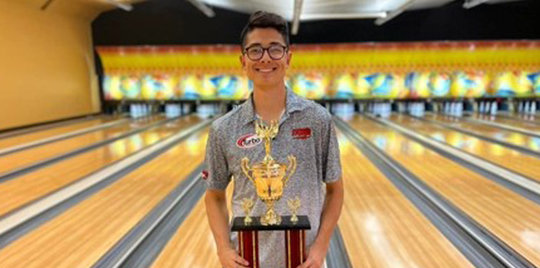 JUNE 16, 2022 CHASE KAUFMAN
Another two weeks have passed and another four events are in the books. Florida, California, Oregon, and New Mexico became the latest states to award points to competitors, each vying for a cash prize at their respective tournaments and a spot in the RPI for more cash at the end of the year.
PBA Bowlero Jacksonville Open
At the only regional during the early June Weekend, Kristijonas Sergejevas of Lithuania led qualifying in Jacksonville, going +155, almost 60 pins higher than second place. Bowlers competed on the Wayne Webb 38-foot pattern, which proved to play more demanding than usual at Bowl America Southside, given that the cut ended up at -72 for eight games. From there, players continued bowling advancer rounds while the field split in half until just two players remained. One competitor left was Sergejevas, who never dropped below third throughout the tournament, and the other was Chris Polizzi of Spring Hill, Florida, who never fell below sixth place after any round. In the final round, all pins dropped as Polizzi and Sergejevas came together to bowl one head-to-head game. Both bowlers started with a strike in the first and a spare in the second, but Polizzi followed it up with a turkey in frames 3-5 while Sergevejas went spare, spare, open. The deficit Sergejevas faced halfway through proved too much to overcome as Polizzi went on to win his second career PBA title.
PBA Bowlero Jacksonville Open Final Results
Chris Polizzi, 2,500 points, $2,500
Kristijonas Sergejevas, 1,500, $1,900
Nick Christy, 1,150, $1,225
Zachary Seals, 950, $1,225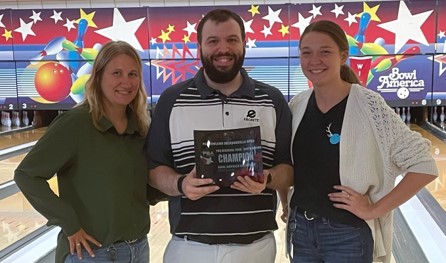 PBA Casino Morongo Open
The following weekend, the Casino Morongo Open took place in Cabazon, California, at Canyon Lanes, hosting 72 bowlers in search of a regional title and 2,500 points toward the RPI standings. The pincers of the Scorpion pattern didn't sting Jakob Butturff as he cruised to the top of the leaderboard, going +376 for eight games. After another four games in the advancers round, Butturff still led the field, but it didn't matter as those top eight bowlers now moved onto a single-elimination bracket. Butturff defeated Chad Lusche in the first round, while Cortez Schenck, Michael Fitzgerald, and Darren Tang also moved on. In the semifinals, Butturff comfortably took down Schenck in game number one, but Schenck found something in games two and three, winning 268-210 and 253-204 to move onto the finals. He moved on to face Darren Tang, who also defeated Fitzgerald in a tight best-of-three match.
In the one-game final, both players started with early opens but found their groove after the third frame. Tang and Schenck continued to strike until the ninth frame, where Tang missed one in and left the 3-10. Tang converted the baby split, but the next shot hung where he left a 2-10 and missed it. Needing just a mark and good count, Schenck stepped up and delivered three strikes in the tenth to cap off a 254-224 victory. The Casino Morongo Open was Schenck's first event since the passing of his father, and in honor of him, Schenck earned his first PBA regional title as a member and second title overall.
PBA Casino Morongo Open Final Standings
Cortez Schenck, 2,500 points, $2,200
Darren Tang, 1,500, $1,450
Jakob Butturff, 1,150, $1,075
Michael Fitzgerald, 1,150, $1,075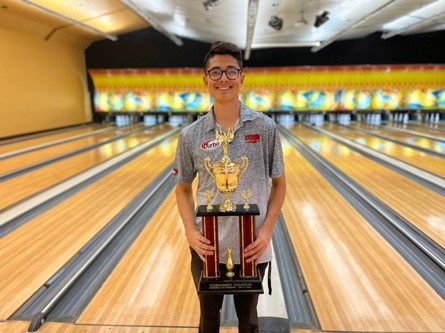 PBA Primasing Motors Open
Simultaneously taking place about 1,000 miles north, 36 bowlers brought their talents into Linn Lanes to compete for $2,000 and possibly a championship banner. The top twelve bowlers moved on after 10 games of qualifying on a dual pattern event, with the top four receiving byes into the quarterfinals. The first two rounds were best three-of-five formats, and after the rounds finished, Zack Stone, Tyler Cruz, Jordan Yoke, and Craig Tuholski remained. Now moving to a best two-of-three match, both matches still went the distance. Stone won his first game over Cruz 214-202, but couldn't get anything rolling in the next two games, dropping both 244-194 and 237-164. In the bottom half of the bracket, Yoke dropped his first game to Tuholski but bounced back with a pair of victories in games two and three. Both bowlers searched for their first PBA Regional Title as they started strong through five frames, each with four strikes and a spare, but Yoke held an eleven-pin lead. However, Yoke split in the 6th and opened in the 7th frame, leaving the door wide open for Cruz, who entered without knocking. Cruz knocked down a vital double, giving him a 24-pin lead. Yoke followed it up with a strike but left the Big Four in the ninth frame, which essentially sealed the deal for Cruz. Cruz took home a $2,000 check, 2,500 points, and will soon see his name etched on a banner hanging up over the pins.
PBA Primasing Motors Open Final Standings
Tyler Cruz, 2,500 points, $2,000
Jordan Yoke, $1,250
Zack Stone, 1,150, $950
Craig Tuholski, 950, $950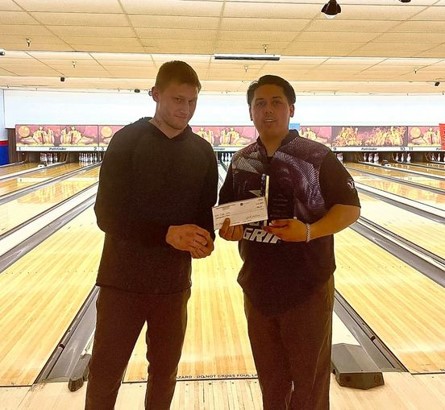 PBA50 Skidmore's Holiday Bowl Southwest Open
Following the USBC Senior Masters, a handful of bowlers decided to make the trek down from Las Vegas to Albuquerque. Brad Angelo, who qualified 12th at the Masters, qualified first at Skidmore's Holiday Bowl, going +277 for eight games. Tom Hess and Walter Ray Williams Jr. followed closely behind in the standings finishing +226 and +180, respectively.
Hess apparently had an extra scoop of Wheaties for breakfast on Wednesday as he immediately fired off a 300 in game one against Angelo. The battle stayed fierce between the two until Brad Angelo finished his round-robin match play with a 279 and a 269 in games six and seven. With just the position round remaining, Angelo held a 69-pin lead, meaning Hess needed a 40-pin victory to move up in the standings. Hess fought, delivering a 258, but Angelo stayed within the 40-pin margin, leaving the New Yorker atop the leaderboard.
PBA50 Skidmore's Holiday Bowl Southwest Open Final Standings
Brad Angelo, 2,000 points, $2,500
Tom Hess, 1,500, $1,200
Walter Ray Williams Jr. 1,150, $850
Martin Bedford, 950, $750
You can view the Southwest Region standings here.
For past and future regional action, go to pba.com, and for all regional leaderboards, head over to r2sports.com.